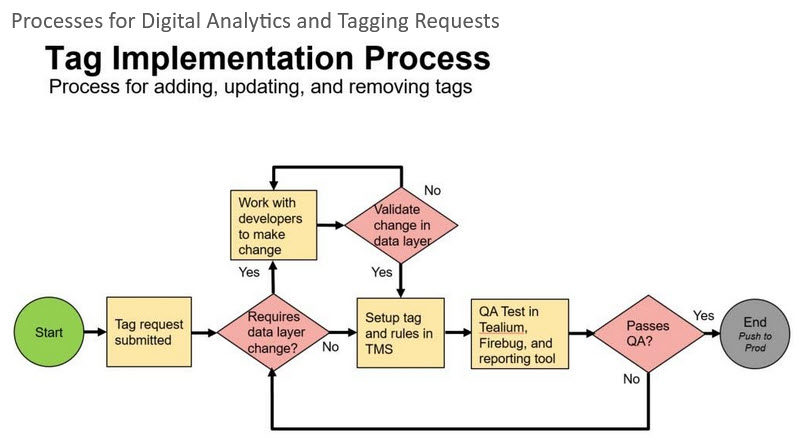 ---
Posted on Nov 19, 2020
---
Agile Approaches to Governing Website Tagging
The purpose of this article is to provide a framework for managing digital marketing, widget, and data collection tags and pixels within a variety of web-enabled platforms. This playbook also includes self-service reporting access and new app or website additions to tag management and reporting. To maintain consistency with tag implementation, data integrity, and reasonable implementation timelines, governance is necessary. Assigning roles and responsibilities, as well as creating standard processes, will ensure consistent, high-quality, and agile delivery of report access, tool access, data collection, and tagging for campaigns, digital platform enhancements, and external and in-page campaigns. The risk of inaction on governance includes crashing web pages, legal liability, or poor data quality.
Web Data Supply Chain Management

Center of Excellence / Community of Practice
To ensure quality and consistency with data collection, routing, and reporting, a group focused specifically on web data collection, tag management, access, web analytics analysis, and reporting is necessary. Fragmentation of capabilities and resources creates a risk in each step of the web data supply chain. Tag management is a key piece of protecting data quality since collecting and routing the proper data impacts each subsequent step.
Processes and Procedures Included in Governance
Processes for Digital Analytics and Tagging Requests
Tracking tag / pixel implementation, auditing, and deprecation
Reporting view addition and deprecation
New app tag management and web analytics reporting onboarding
Web analytics reporting suite and tag management system access and permissions
Routine Procedures
Tag Management System (TMS) tag auditing
Digital channel data reviews / campaign tracking audits
Data integrity auditing and testing
Common Stakeholders
Analytics Team
Digital Marketing Team
Web Design & Development / UX Teams
Omnichannel Acquisition / Ecommerce Teams
Sales Team
IT Team
Common External Stakeholders
Agency Partners
Strategic Partners / Subsidiaries
Common Process Tools
Common Process Frameworks
Common Roles and Responsibilities Relating to Tag Management and Digital Analytics
Analytics Team
Data collection and analysis
Tag implementation – firing rules, etc.
Tag maintenance, auditing, and management
Tag auditing, deprecation, and removal
Web Design & Development / UX Team, Ecommerce Team, IT Team
Ideate and create web-enabled experiences
Design and develop new features
Implement data layer changes
Digital Marketing Team / Omnichannel Acquisition Team
Drive traffic and revenue
Request tags
Process Triggers / When to Engage
New backend or front-end development work on web-enabled platforms is being planned
New external / channel or in-page campaigns are being planned
New digital marketing tools or widgets are being considered
New third party tags need to be added to one of our digital properties
Current digital marketing tools or widgets are under consideration for deprecation
New CMS or landing pages are being planned that include CTAs or content tracking requirements
New hotel is opened and set to take reservations online
New brand is created or acquired and is set to take reservations online
New vendors or partners require access to self-service web analytics reporting or TMS
Requests and Intake Considerations
What is being requested?

Tag addition, adjustment, or removal?
New website or app addition to web tracking and reporting?
Access to TMS or web analytics self-service reporting?
Common Processes for Digital Analytics and Tagging Requests
Using a tool like Trello or Jira can help to manage requests. Most tools allow for templated forms to be created to ensure relevant information is gathered to support the request.
Common Analytics Request Form Fields
Summary
Request Type

Drop-down Select Box

New tag, Tag update, Tag removal, Access request, Other

Other Request Type

Text Box

Specify request type if "Other" Request Type selected

Request Scope

Drop-down Select Box

All brands and apps (Global), Specific apps, Specific theaters, Specific countries, Specific cities

Scope Details

Text Box

Example: This tag will only be used for Radisson Red properties in Brussels, Belgium

Tag Duration
Tag Expiration Date

Text Box

MM/DD/YYYY - If there is no expiration date, enter N/A

Description

Text Area

Provide details about the request and include any tags, scripts, or pixels that will need to be added to one of our digital properties

Tag Firing Rules

Text Area

Enter the pages and conditions where the tag should be fired

Access Request Details

Text Area

Enter the tool you would like access to (Google, Tealium, etc.) and provide details about the access you are requesting

Status

Drop-down Select Box

Reported, Info Needed, In Queue

Attachment
Linked Issues

Drop-down Select Box

Drop-down Select Box & Text Box Combination

Priority

Drop-down Select Box

Low, Medium, High, Critical

Created By

Hidden Field
Auto-populated
Common Steps
Form is submitted
Direct requestor provides specific details regarding request
Form populates a user story / Kanban card
Request is received
Request is reviewed
Request is started and status updated unless additional info is needed for user story / Kanban card
Requestor validates tha tneeds are met
Request is closed
Routine Procedures
TMS Tag Auditing Procedure and Digital Data Integrity Auditing and Testing Procedure
Proactive Monitoring
ASSUMPTION: Tag monitoring tool is implemented and set to run in regular intervals
Tool sends a signal if a tag misfires or data integrity is threatened
Create JIRA card for issue and add to Kanban board
Resolve issue and complete QA testing
Quarterly Auditing
Create JIRA card for audit and add to Kanban board
Export and review all tags for each TMS profile
Consult relevant stakeholders regarding tag status
Update and/or remove tags to ensure the integrity of the TMS
Complete QA and regression testing after tags are updated and/or removed
Digital Channel Data Reviews / Campaign Tracking Auditing Procedure
Monthly Auditing
Create JIRA card for audit and add to Kanban board
Compare source / medium of traffic with planned campaigns
Explore reporting for inconsistencies
Example – Medium: Email / Source: Google.com / Campaign: 20% off Promotion
An internal email campaign would not originate from Google.com
Document Inconsistencies and reach out to resources to provide education and guidance for campaign tagging
Wrapping Up
The framework outlined in this article is does not include all of the nuances for each business. It provides items and procedures worthy of considering when managing tags and analytics within organizations. Governance is especially important in an era of CCPA and GDPR because poor tag managementpractices can open companies up to litigation.